2022 Award Winner: Professor Dragan Ilic
The CAPHIA medal represents our highest honor as a recognition of exemplary achievement in contributing to public health education in Australasia. The winner demonstrates an outstanding commitment to driving improvements, innovations, and capability building to advance public health education.
The 2022 CAPHIA Medal was presented to Professor Dragan Ilic in recognition of his outstanding achievements in public health education and research, including in forming collaborative partnerships throughout the academic public health sector.
Professor Ilic is the Deputy Head (Education) at the School of Public Health and Preventive Medicine (SPHPM) at Monash University in Victoria. He also serves as the Director of Education (DoE) and Head of the Medical Education Research and Quality (MERQ) unit. Much of his work centres on educational quality assurance and governance across undergraduate, postgraduate, and professional development programs. Professor Ilic is a leader in research on education for health professions, especially in the development of innovative professional development activities for public health educators and practitioners. His collaborations with key industry partners include the Department of Health professional education program for sponsored staff members from the SPHPM and the development of a digital health microcredential with Siemens Australia. He has developed extensive international partnerships throughout southeast Asia, including study abroad opportunities in Malaysia, Vietnam, and Cambodia for public health students and virtual placements linking students with industry partners, such as the NHS.
Professor Ilic's scholarly activites also demonstrate his outstanding expertise in public health teaching, research, and practice. He serves as the Chair of the Professional and Continuing Education (PACE) committee for Monash University's Faculty of Medicine, Nursing and Health Sciences (FMNHS) and as a member of the Faculty Education Board. He is a member of the International Society of Evidence-Based Health Care (ISEHC) and Chair of the ISEHC Education Sub-Committee. He is also a founding member of the International Society for Cost and Value in Health Professions Education (ISCVHPE) and associate editor of the Journal of Continuing Education in Health Professions. Professor Ilic is also active in the development and presentation of public health education conferences both in Australia and internationally – he served as Co-Chair of the 2022 CAPHIA Teaching and Learning Forum Steering Committee as well as the Co-Chair of the 2022 and 2023 ISEHC Conferences Steering Committee.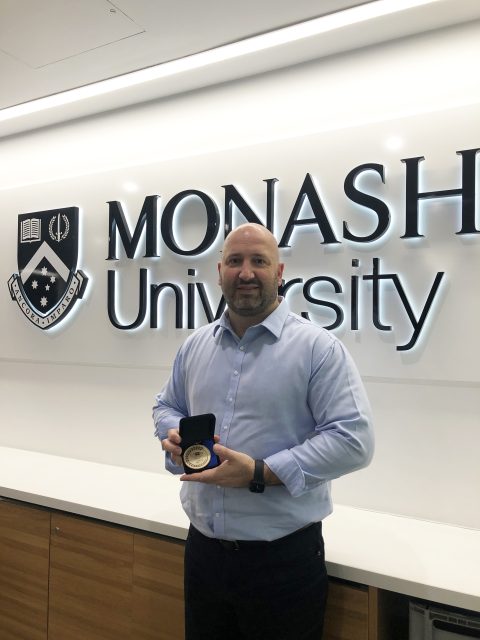 Above: Professor Dragan Ilic, winner of the 2022 CAPHIA medal
CAPHIA Award winners were announced at the 2022 AGM and Heads of Schools Summit on November 15, 2022