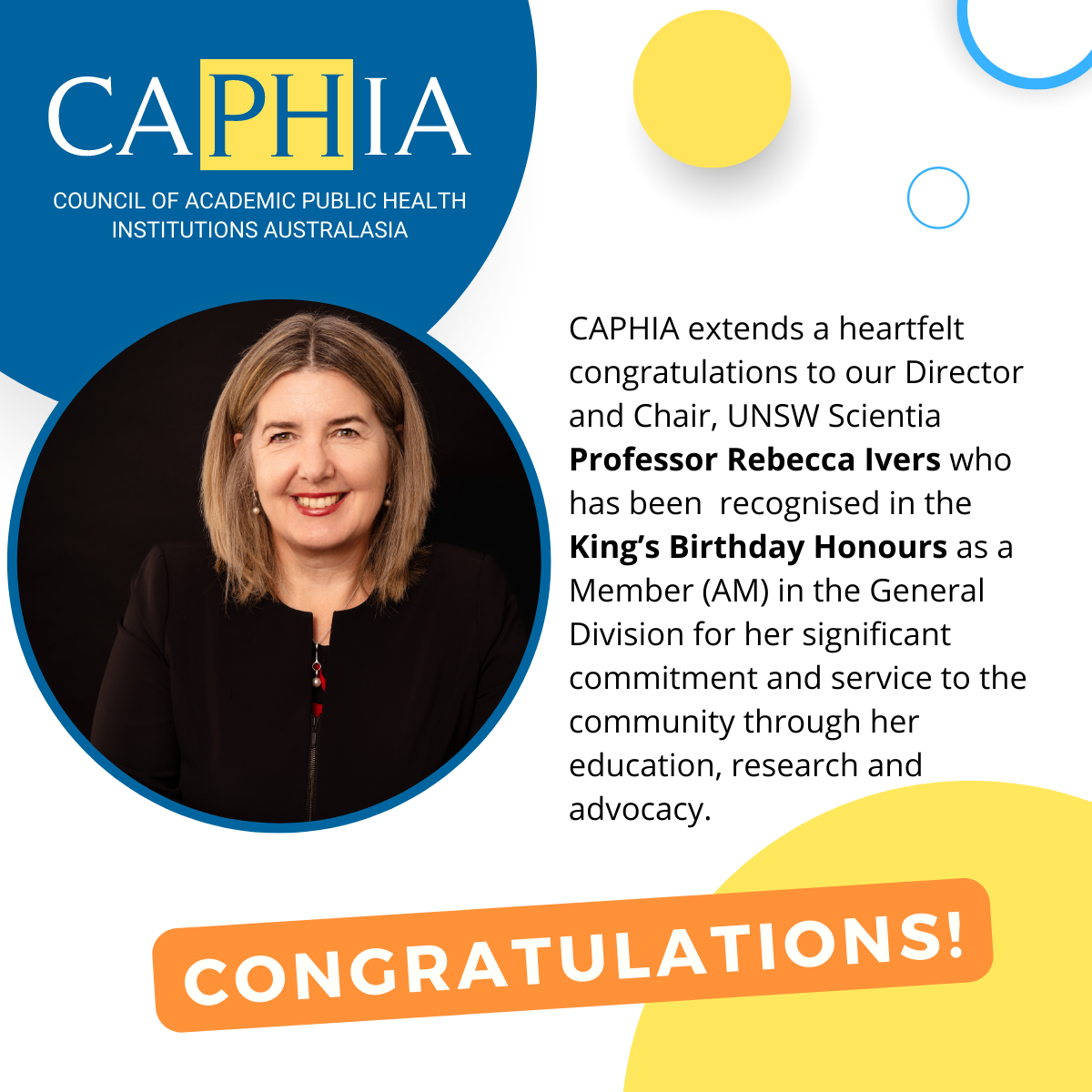 CAPHIA Director and Chair, Professor Rebecca Ivers recognised in the King's Birthday 2023 Honours List on 12 June 2023.
CAPHIA are excited to share the news that our Director and Chair, Scientia Professor Rebecca Ivers has been recognised in this year's King's Birthday Honours as a Member (AM) in the General Division for her significant service to community health. Professor Ivers is a global leader in the field of injury prevention and has played a major role in shaping health across communities through an impactful programme of work spanning road injury, drowning, burns, and falls driving new understanding of the impact of injury and development of cost-effective and culturally safe care in both high- and low-income settings. Her work is characterised by large scale cohort studies and pragmatic, community-based trials with the purpose of improving injury prevention and management of injury in underserved populations, for Aboriginal and Torres Strait Islander people and in low- or Middle-Income countries. Her work has a strong focus on equity and sustainability and emphasizes co-design methods and strong community partnerships to implement innovative solutions.
Professor Ivers has an outstanding track record of leadership and mentorship in public health research and training and is a committed advocate for supporting and strengthening the capacity of public health academics and practitioners. She has developed strong community, academic, government and non-government partnerships to implement co-designed and culturally safe solutions and outstanding research to policy translation. She is a passionate advocate for injury prevention in Australia and globally and is driven to improve health for all.
Professor Ivers is Head of School at the School of Population Health, UNSW, and Honorary Professorial Fellow at the George Institute for Global Health. She chairs the National Injury Surveillance Unit (Australian Institute of Health and Welfare) Advisory Committee, co-chairs the Virtual Care Monitoring and Evaluation Committee, NSW Ministry of Health and chairs the International Advisory Committee, Nepal Injury Research Centre.
This achievement is a testament to her extraordinary impact and a well-deserved recognition of her service to the community and to the profession. CAPHIA extends a heartfelt congratulations to Rebecca Ivers and profound gratitude for her continued commitment to improve the public's health through her education, research, and advocacy.