2022 Award Winner: Dr Rimante Ronto
Teaching Excellence - Early Career Academic
The CAPHIA Teaching Excellence Awards recognises and rewards the contribution of CAPHIA members to quality teaching and learning and inspiring student learning in public health.
The 2022 Teaching Excellence Award – Early Career Academic was presented to Dr Rimante Ronto in recognition of her impact to public health education. 
An in-depth understanding of the multifaceted nature of learning is demonstrated by Dr Rimante Ronto, Senior Lecturer in Public Health at Macquarie University. A major contributor to several new Master of Public Health programs and leader in the teaching of professional practice, Dr Ronto integrates digital tools that enhance active learning while supporting diverse learning styles and fostering student engagement. Her use of technology in teaching, including VoiceThread, Twitter Poll, and game-based tasks, supports the development of advanced digital literacy in students while encouraging critical thinking within the context of public health practice. Dr Ronto's use of technology and multimodal task design underpins clear and effective pathways for achieving CAPHIA competencies relating to health promotion and evaluation, and her commitment to the scholarship of teaching and learning is expressed through continual research and evaluation of teaching techniques.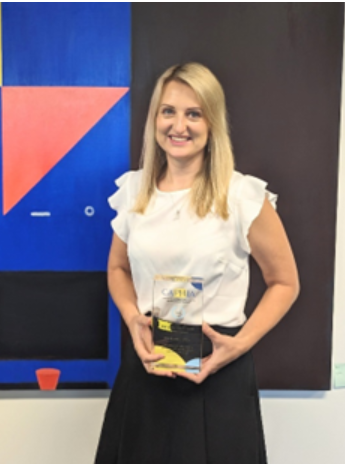 Above: Dr Rimante Ronto, winner of the 2022 Teaching Excellence Award – Early Career Academic
CAPHIA Award winners were announced at the 2022 AGM and Heads of Schools Summit on November 15, 2022