*NEW* Mentoring Reference Group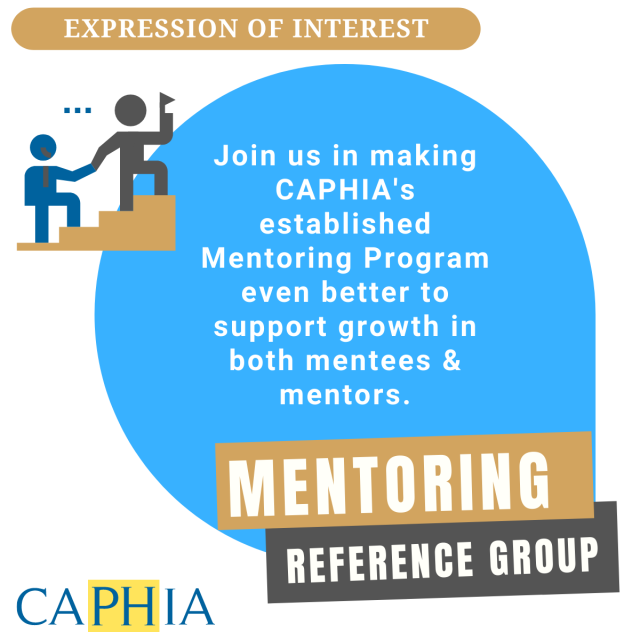 CAPHIA's *NEW* Mentoring Reference Group are seeking 6 highly-energetic individuals to make our established Mentoring Program even better.
What's involved?
Contributing to development of the 2022+ Mentoring Program including review of previous programs and formation of the new structure,
Helping development of training and support materials and related promotions, reports, publications etc.
Am I eligible?
All staff and current students from our 40 member institutions are warmly invited to apply. We are seeking diversity to represent our wonderfully broad profession.
How do I submit?
Complete this short EOI form including a short bio (150 words maximum) and what you can bring to the Reference Group complete.
CAPHIA Mentoring Program 2021
CAPHIA was pleased to facilitate the CAPHIA Mentoring Program in 2021. 
The CAPHIA Mentoring Program 2021 were open to public health academics of member institutions at all career stages, either as mentors or mentees. Mentoring can be valuable for all public health academics for university career development or other professional opportunities.
By supporting academics from member institutions to network and share ideas, benefits will be gained through the two-way information exchange that elevates the knowledge transfer through practical experience
Mentors that teach and research public health bring a wealth of experience to the program. They are asked to share their experience, and to inspire and support their colleagues with advice and insight from their own experience.
The benefits for mentees that participate in the program can be many. They include gaining vital access to the mentor's expertise in managing a variety of situations, sharper focus on what is needed to grow and progress your career pathway as well as learning specific skills and knowledge relevant to professional goals.
To support the program, the CAPHIA Mentoring Program Guidance 2021 was been developed for members.