Events & Initiatives
CAPHIA regularly hosts a variety of events for members including an annual Teaching & Learning Forum, and online webinar series. We also lead a number of initiatives for member including a Mentoring Program, Internship Program and workshops to explore key issues and opportunities.
Join our mailing list to find out the latest news and events:
Teaching & Learning Forum
This year's Teaching and Learning Forum is being hosted by the School of Public Health and Preventative Medicine at Monash University. The Theme is Public Health Education: Challenges, Opportunities & Solutions. 
Date: June 30th & July 1st 2022
Modality: In-person & zoom 
Location: 553 St Kilda Rd Melbourne, VIC
Academic Public Health Professional Development Series
The Early Career and Postgraduate Students Subcommittee (ECAPS) are hosting a 4-part professional development series which aims to improve teaching skills for early career academic (ECA) public health educators and supporting PhD candidates who wish to move into a public health academic role.
FREE for all staff and current students of CAPHIA's member institutions the seminars are designed to build on one another, focusing on practical tips useful in the public health teaching context.
Practical Learning and Teaching Strategies for Engaging Public Health Students
ECAPS first of 4 seminars took place on May 2nd 2022. 
Three early career academics shared their tips for optimising student engagement.
Storytelling
Case-Based Discussions
Removing barriers to learning
Presenters: Dr Sophia Lin (UNSW), Dr Katharine Kent (Western Sydney) and Tristan King (UniSA).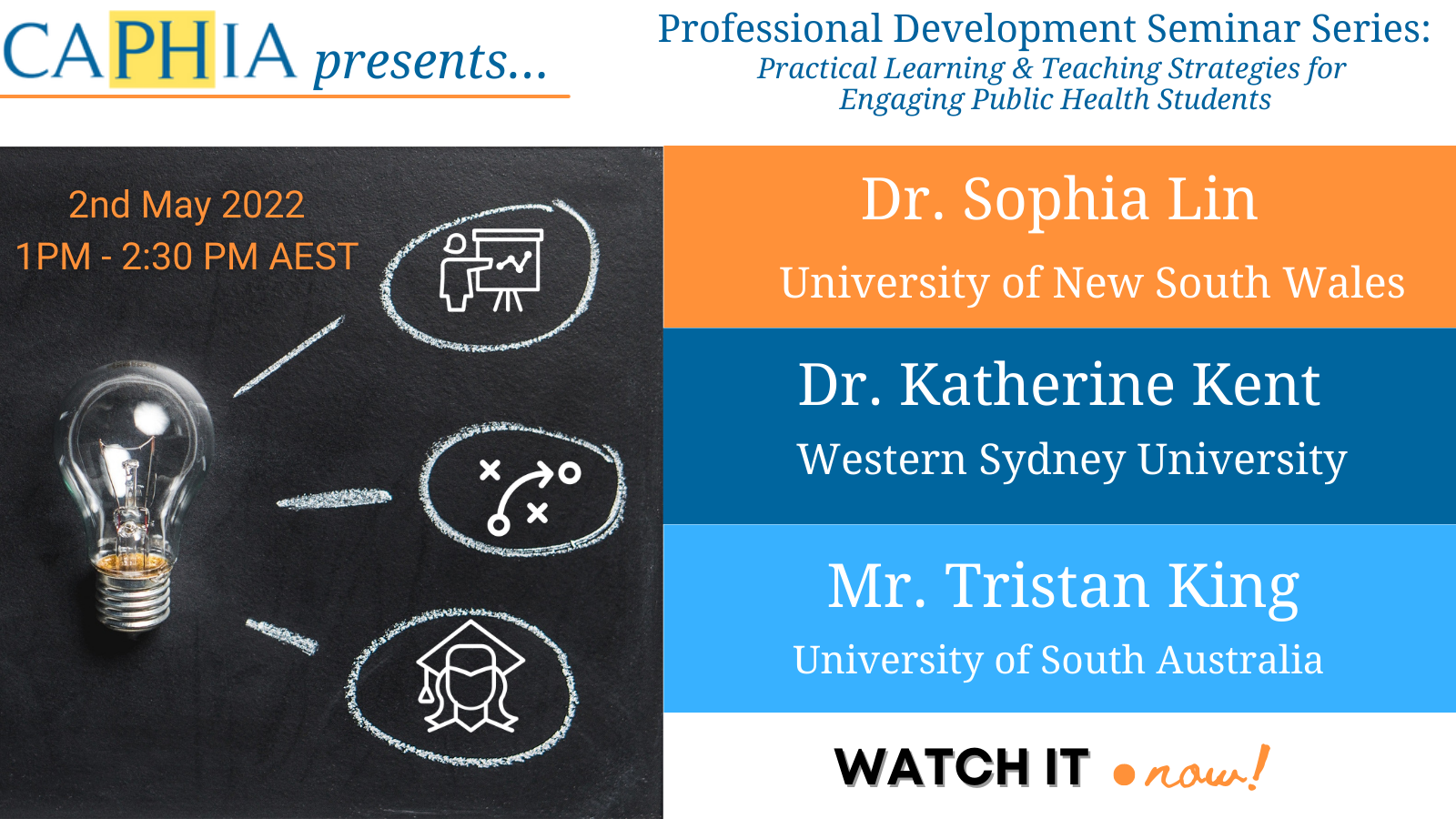 Public Health Education Reimagined in the Post Covid Era
Three leading guest speakers from Australia, India, and Fiji share their perspectives on PHE in a post-COVID era in their country. For over two years now, the global impacts of COVID-19 have firmly established the importance of public health in guiding the health response. While public health knowledge, expertise, and a skilled workforce have been critical in guiding disease prevention and health protection activities, these rely on traditional public health competencies.
At the same time, the pandemic has affected the tertiary education sector by widening educational inequalities among vulnerable students and accelerated trends and changes occurring in the higher education system pre-COVID. Addressing the pandemic has thus provoked thinking around potential lessons for public health education (PHE) for the development of new and strengthened educational strategies in a post-COVID -19 world.